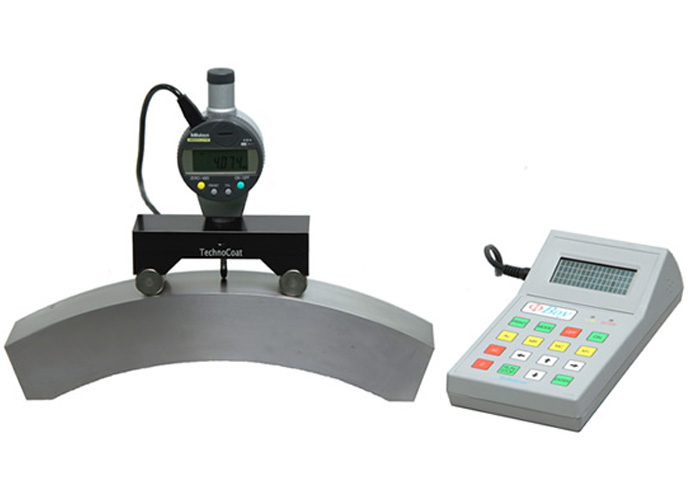 Digital Radius Gauge

Phi Boy
Now measurement of every Radius and Contour is possible
Phi-Boy is a revolutionary and easy to use digital gauge for both ID and OD as well as columnar, cylindrical, conical, and spherical shapes.
Phi Boy Features
3D shape ID / OD easy measurement and digital displaying
3D shape R measurement

Arc inner diameter measurement

Automobile hood R measurement
1. Operability
Automatic readout mode*1 enables an easy and quick onsite measurement.
2. Economy
Measurement of both inner and outer radii is accomplished with one unit.
Measurement of both small and large work pieces is accomplished by just changing attachments.
3. Accuracy
Within +/- 0.01mm (lower accuracy for larger objects)
4. Partial Measurement
No need to measure the entire work surface.
5. Measurement Range
20mm to 10,000mm (10 meters)
6. Alarm*2
Warning buzzer goes off and lamp comes on when the reading exceeds the preset minimum / maximum.
7. Calculation
Calculates and indicates both radius and diameter, average value, and standard deviation.
8. Recordability
Storage of up to 5 readings.
Printouts the individual readings, average, the size of base attachment (L and R) and data.
9. Gradual R Measurement*3
Measures continually varying radius using a base attachment with spherical contact legs.
10. Waviness
Measures waviness and gyration on flats, columns, and spheres.
*1. Automatically accepts a "h" value (or max. peak or min. valley) when the extended line from the measuring tip to the center.
*2. Applicable for detecting machining errors, routine radius check and go / no-go decision making for mass-production items.
*3. Indicate the true radius, which goes through the two legs of the base attachment, indicator contact tip in contact with work piece.
Phi Boy Applications
Waviness on finished surface

Molds and Dies radius

TV Display radius

Woodworking or craft products radius

Bent pipe radius

Roll forming gradual radius
Phi Boy Measuring Examples