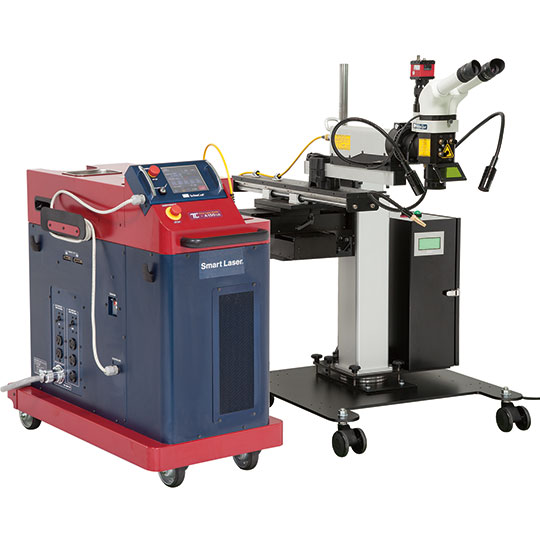 Portable Fiber Laser Overlay / Welding System
Smart Laser
TL-150LDA/300LDA/450LDA
Super precision laser process for manufacturing and repair
Portable and Maintenance Free achieved Lower Running Cost.
New Fiber Laser Overlay / Welding Equipment.
Smart Laser Features
Compact, lightweight, portable, and low maintenance
This series of welding units can be brought to the workpieces, allowing to repair large workpieces and equipment that cannot be disassembled or transferred on site.
They have a simple low maintenance structure that requires no chiller and that only uses a few parts that require replacement.
Usable with a variety workpieces
By combining different laser heads and peripheral equipment, these units can be used with a variety workpieces from large and small workpieces to precision workpieces.
Improved beam quality
Compared to YAG lasers, these units provide high-quality beams (M²=1.1), ideal for finer and more precise welding.
Controlled waveforms capability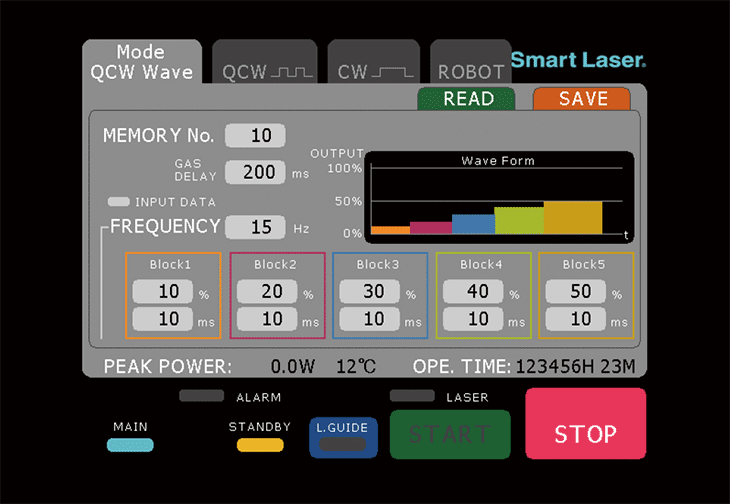 With the controlled waveforms capability, these units can be used for a wide range of materials and welding conditions.
They prevent cracking when overlaying high-hardness materials and provide improved weldability of aluminum, copper alloys, and other metals.
Pulsed and continuous waves abilities
Depending on applications, May selectpulse (QCW) and continuous wave (CW) modes.
Low running costs
Compared to YAG lasers, this series of units provides high energy conversion efficiency, significantly reducing power consumption
(about 1/6).
Smart Laser Applications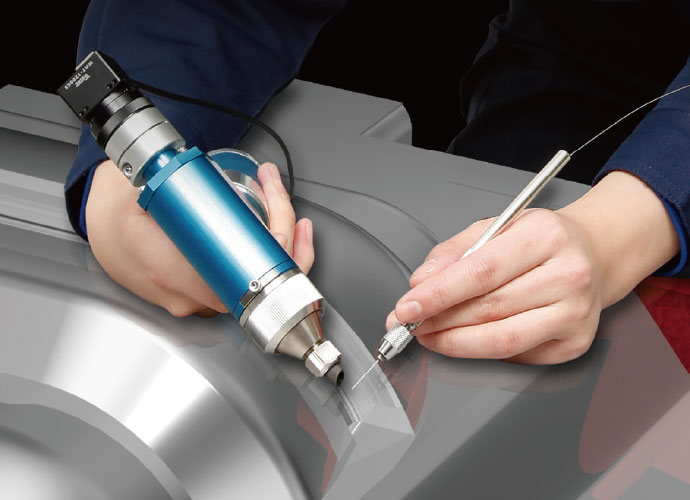 Overlay Repairing (Small Precision - Huge Work)
Spot and Seam Welding (Small / Thin)
Overlay and Welding of Dissimilar Metals
Overlay and Welding of High Hardness Materials
Higher Performance Coating Layer Creation (Laser Coating)
Hardening
Soldering and Brazing
Smart Laser System
Offering the most suitable package to workability and application
Corresponding to variable work and application from Flexible Smart Torch (Handy Torch + VR Goggles) to Precision Weldable Microscope Processing Head.
On-site higher quality repairing is possible for non transportable huge work or not disassemble tools.
Motorized Workstation set

For Large Work and for Precision Overlay and Welding
(3-axis feed / Forward and Backward slide / Z-axis swivel)

Manual Worktable set

Space saving design for Small to Medium-Size work

Motorized Worktable set

For products small and thin etc.

Smart Torch
(Handy Torch + VR Goggles)

Appropriate for On-site work as Precision Overlay and Welding etc.