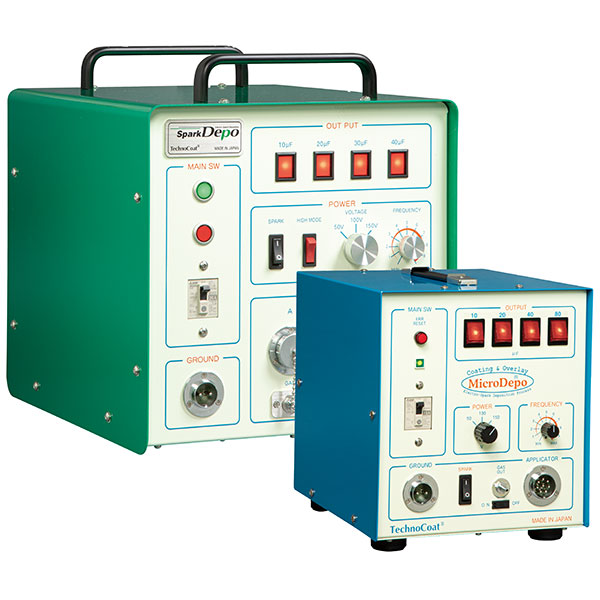 Coating and Overlay Device
Depo Series
Best Solution for Preventive Maintenance and Over Repairing of Machine Parts, Mold and Dies
Depo Series are a newer Coating and Overlay method applying EDM (Electrical Discharge Machining) principle.
Depo series Features
High Bonding Strength Mechanism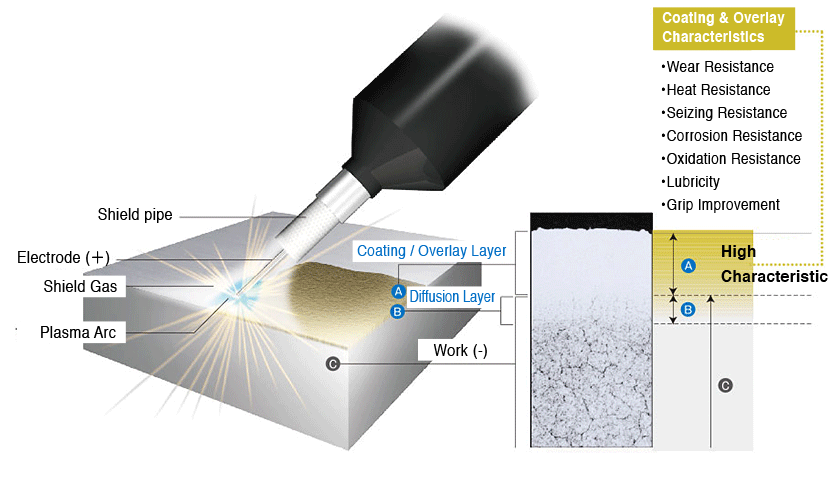 A Depo Series device discharges direct current charged in the capacitor inside the main unit for a very short time of 10-6 to 10-5 seconds with a period of 10-3 to 10-1 seconds.

This heats the portion of the electrode material that is in contact with the workpiece to 8,000 to 25,000℃.

Then, the heated electrode material turns into plasma and metallurgically transfers to the workpiece surface. Next, the electrode material alloys with the surface, accumulates on it, and then spreads and enters under the surface, resulting in strong bonding
Low Heat Input by adequate heat diffusion time
No occurring distortion, shrinkage, pin-holes, or stress
The Spark time is extremely short compared with the interval time so that no heat accumulation occurs during diffusion and deposition periods.
Extremely Strong Bonding by Solid Diffusion Layer
No removing after the process
Electrode Material is deposited and alloyed to work surface forming a diffusion layer with penetration like grown roots.
This provides Strong Boding Coating and Overlay deposition without removing.
Shield Gas (Argon Gas etc.) prevents oxidation during processing, makes excellent quality Coating / Overlay possible.
| | |
| --- | --- |
| Applicable Substrates | Low and Medium carbon steels, Tool steels, Die and Mold steels, Cast steels, Stainless steels, Aluminum alloys, Copper alloys and the majority of alloys and composites having sufficient electrical conductivity |
| Alternatives | Plating, Thermal spray, CVD, PVD, TD treatment, Nitriding, Carburizing, Quench hardening, Welding, Carbides, Diamond, Lining etc. |
Tremendous On-site Workability

No required to dis-assembling large works, and processable only to necessary part
Portable and best fitable for On-site working. Processable only to necessary part and reducible finishing time.
No pre or post heating required. Significantly improve work efficiency.
High processing capacity and Wide range adaptability
The thickness and surface roughness of the coating layer can be adjusted by the output and frequency, so processing can be performed as intended.
Since the overlay amount can be controlled in units of 0.1 mm, the amount of surplus is small and finishing time can be shortened. In addition, by using
various applicators
, it is possible to perform processing that suits the purpose.
Even if the processing parts are worn, they can be processed in layers from above.
Depo Series Application Usages
〈Coating〉Longer Service Life by Preventive Maintenance

Longer service lives of Mechanical Tools, Molds & Dies, and Tools to apply Coating layer of WC, TiC, Cr3C2, VC etc. that resists to wear, heat, seizing, corrosion, oxidation etc.


Overlay repair and coating of various machine parts, equipment parts, jigs and tools (possible at on-site construction)
Overlay Repair / Coating on Mold
〈Surface Treatment of Die Casting Die〉
Erosion, Seizing, Scuffing, and Heat Cracks prevention etc.
〈Press Die Coating〉
Press Die Coating
〈Plastic / Rubber Mold Overlay Repairing〉
Burr Prevention, PL Part Repair
〈Aluminum Molds / Casting Products〉
Pinholes, Underfill Repair etc.
*May use for various other purposes